A consortium comprising specialist heat treatment company, ADI Treatments Ltd., Trenton Electroplating (Redditch) and led by Industrial Consultants E9 Limited has secured funding from Advantage West Midlands' Innovation Networks programme to produce and characterise a new metal alloy.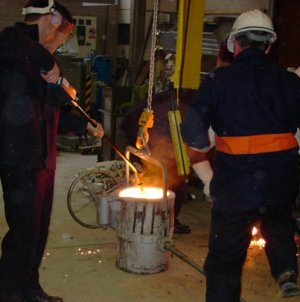 Recording the material temperature
before casting.
The material, a Carbidic Austempered Ductile Iron (CADI), promises properties of extreme hardness and durability. This would make it especially suited to applications where wear resistance and strength are important including engine parts, agricultural and mining machinery
The project partners aim to understand the factors that influence the material production, quality and reproducibility and to characterise the metallurgy as a function of key production parameters. The optimum alloy composition, heat treatment parameters and metal finishing will all be determined together with metallurgical data necessary for industrial designers and materials specifiers to identify suitable applications.

The material is expected to have weight and cost advantages in certain applications where the wear resistant properties are key and components need to be formed in complex shapes.

ADI Treatments Ltd. - based in Doranda Way, West Bromwich – provides much of the technical driving force behind the project. Simon Day Managing Director of ADI Treatments Ltd. said "CADI has shown good initial indications and we want to explore these in applications. We are keen to work alongside forward thinking manufacturers in the UK to identify commercial applications for the new material."

Dr. Trainor, Managing Director of Coventry Based E9 Limited continued"Manufacturers are under constant pressures to innovate and improve. Any change that improves the quality, cost or performance of a component or it's manufacturing process, can create a winning commercial edge. That is what Advantage West Midlands plan to create."

The consortium is seeking to make contact with companies who have ground engaging, crushing, wear resistant and agricultural parts. Expressions of interest from companies should be sent to Dr. John R. Trainor, at:
E9 Limited
The Technocentre
Coventry University Technology Park
Puma Way
Coventry, CV1 2TW
Telephone: 08456 444 660
Fax: 024 7669 3733
Notes:
The University of Birmingham's Interdisciplinary Research Centre (IRC) in Materials Processing is undertaking the casting research for the consortium, which involves ADI Treatments Ltd, Trenton Electroplating (Redditch) and E9 Limited.
Each company in the consortium brings different skills and strengths to the project team.
Advantage West Midlands' Innovation Networks programme provides financialand strategic support to the region's SME base.
The £10,000 grants support innovation and promote technological and trading co-operations between companies working together to deliver new services and products that have the potential to make a positive impact on economic prosperity.
The scheme also sets out to facilitate and promote the transfer of technology and knowledge from the region's Universities, many of which are internationally recognised centres of R&D excellence.