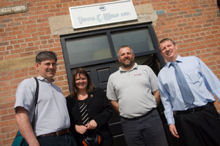 Sheffield based Thos C Wild Ltd is a manufacturer of seamless rolled rings for the aerospace, oil and gas and power generation sectors. The company offers rapid response to customer requirements for steel, nickel and titanium forged rings in sizes up to 1m diameter and 200kg in weight.
The company had already undertaken a programme of thermography on their furnaces under the BAT3 programme. Technical Director Martin Justice then asked E9 to investigate the efficiency of the motors on their 1.5 tonne hammer.
Martin Justice said "We knew that a modern motor would be more efficient but we had no idea whether it made economic sense to replace the motor. We asked E9 to analyse the energy use of the motor and assess any potential savings".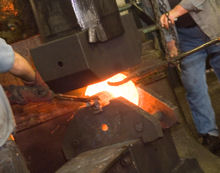 E9 monitored the electrical supply of several of the hammers over a typical operating period to profile the energy consumption. This data was then analysed along with production information to calculate the electrical cost of running the hammer on an annual basis.
"The analysis showed that replacing the motors would not be economical" said Marius van der Colff of E9. However when analysing the energy consumption profiles it became clear that the hammer could be used more efficiently by making some minor operational changes.
"We have found that profiling the energy consumption of major plant will often throw up interesting information" added Marius van der Colff. "This might include early signs of equipment faults, more efficient working practices or simply an accurate cost per item produced."
Martin Justice concluded "Although we have not been able to save energy replacing the motor, we have gained a valuable insight into the electrical demand of the hammers during different phases of operation. This will allow us to use the hammers more efficiently without incurring any costs".
Notes

NAMTEC is a not for profit organisation established to increase the competitiveness of the UK metals industry. Services include a technical helpline, signposting to the science base and project management. NAMTEC is financed by the Department of Trade and Industry, Yorkshire Forward and the European Union's Objective One Programme.
E9 Limited operates from bases in Coventry and Sheffield, offering a range of industrial consultancy products and services. E9 supports industrial and manufacturing companies through development and change by implementing continuous improvements to company operations through a range of management and technical products and services.