When thinking about reducing energy consumption the use of compressed air is frequently overlooked. However it often makes up a significant proportion of site energy consumption. Vehicle roll bar manufacturer Tinsley Bridge Limited wanted to see if there was anything they could do to reduce their compressed air energy consumption so they called in E9 through the BAT3 programme.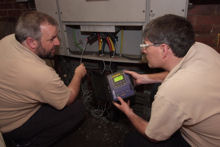 Marius van der Colff of E9 said "We tackled the issue from two directions. First we monitored the compressors to see what the demand pattern was. Second we undertook an ultrasonic air leakage survey of the site."
Looking at the demand pattern of the compressors allowed an analysis to be undertaken which showed how much the compressors were costing to run annually and also to look at alternative compressor configurations and control strategies.
The ultrasound leakage survey identified where leaks on plant and the distribution system were and made an estimation of the proportion of compressed air being wasted. "This site was typical with air leakage accounting for between 15 and 25% of compressed air produced" said Marius van der Colff.
David Owens,Technical Director at Tinsley Bridge Limited said "The survey allowed us to realise just how expensive compressed air production on site was. Knowing this we can properly evaluate options for investment and prioritise maintenance work".
Notes

NAMTEC is a not for profit organisation established to increase the competitiveness of the UK metals industry. Services include a technical helpline, signposting to the science base and project management. NAMTEC is financed by the Department of Trade and Industry, Yorkshire Forward and the European Union's Objective One Programme.
E9 Limited operates from bases in Coventry and Sheffield, offering a range of industrial consultancy products and services. E9 supports industrial and manufacturing companies through development and change by implementing continuous improvements to company operations through a range of management and technical products and services.