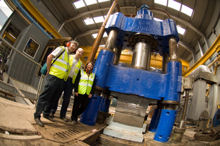 Independent Forgings and Alloys Ltd (IFA) are a specialist open die forging and ring manufacturer, producing forgings of up to 10 tons in the widest possible range of metallic materials. They categorise themselves as one of the "world's largest blacksmith's".
IFA have expanded their operation rapidly over the last three years, increasing the quality and variety of forging and heat treatment operations available to customers.
To remain competitive they are always looking for new ways to reduce costs in all areas of their operation. Richard Chambers, an Electrical Engineer with IFA knew that one area they could reduce costs was on their Fixed Installation Electrical Survey for the insurance company. Richard had used thermographic imaging as an electrician in the Royal Navy so knew the capabilities of the method.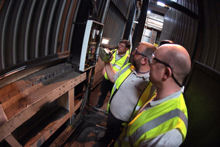 "Thermal surveying of electrical systems is quick and can take place while equipment is running." said Richard. "It will find faults in the electrical system such as loose connections or overloaded wiring. With this information we can negotiate with our insurers to reduce the frequency and scale of the Fixed Installation Survey."
As part of their BAT3 programme he called in E9 Limited to undertake a thermal survey of their main electrical distribution systems and some of the plant electrical panels.
"Using thermal imaging allows us to find any faults in an electrical system which is heating up. This includes loose or faulty connections, overloaded wiring and components as well as being able to see if phases are out of balance" said Marius van der Colff of E9 Limited. "These are some of the most common issues and are the ones most likely to lead to breakdowns and fires."
Richard Chambers concluded by saying "I would recommend using the technique to any company as it is so quick and easy and can reduce your insurance costs. We will re-survey the distribution system annually to ensure we keep on top of any issues with the distribution system."
Notes

NAMTEC is a not for profit organisation established to increase the competitiveness of the UK metals industry. Services include a technical helpline, signposting to the science base and project management. NAMTEC is financed by the Department of Trade and Industry, Yorkshire Forward and the European Union's Objective One Programme.
E9 Limited operates from bases in Coventry and Sheffield, offering a range of industrial consultancy products and services. E9 supports industrial and manufacturing companies through development and change by implementing continuous improvements to company operations through a range of management and technical products and services.