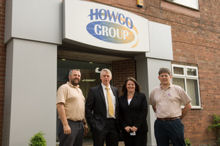 The Howco Group are one of the largest independent processors and distributors of speciality steels. At their Sheffield site they have extensive heat treatment facilities that support their in-house sawing, drilling, boring and machining facilities as well as providing subcontract facilities.
As part of their constant work to improve productivity and reduce energy consumption Howco joined the BAT3 program to undertake thermal imaging of their heat treatment furnaces.
Marius van der Colff of E9 said "Thermal imaging of furnaces can be used to highlight maintenance issues such as the break down of refractory linings or poor door seals. It can also be used to highlight areas of poor insulation and high heat loss allowing companies to focus improvements on the areas where they will be most effective."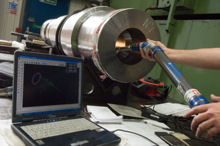 The thermal imaging highlighted a number of issues including the difference between the heat loss from a clean furnace wall and a tarnished or sooty furnace wall. The thermal imaging showed that a reduction in heat loss of 25% or more could be made simply by ensuring the furnace walls are kept clean.
Andrew Marwood, Engineering & Manufacturing Director at Howco, commented "It was interesting to see the difference in heat loss between different surface finishes and clean and dirty furnace walls. This was not an area we had been aware of until it was demonstrated to us."
As well as thermal imaging E9 have also assisted Howco with their Climate Change Agreement application.
Andrew Marwood concluded "The BAT3 programme has allowed us to use E9's expertise in a number of different areas. I wouldn't hesitate to recommend joining the programme to any company undertaking energy or environmental projects".
Notes

NAMTEC is a not for profit organisation established to increase the competitiveness of the UK metals industry. Services include a technical helpline, signposting to the science base and project management. NAMTEC is financed by the Department of Trade and Industry, Yorkshire Forward and the European Union's Objective One Programme.
E9 Limited operates from bases in Coventry and Sheffield, offering a range of industrial consultancy products and services. E9 supports industrial and manufacturing companies through development and change by implementing continuous improvements to company operations through a range of management and technical products and services.