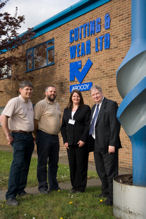 Cutting and Wear Resistant Developments Limited are an international and world-class, solutions driven organisation supplying downhole tool technology to drilling equipment manufacturers across the world.
Cutting and Wear had decided to replace their ageing compressor but wanted to know what kind and size of compressor would best suit their requirements. The company knew that over its lifetime the purchase cost of a compressor is a small fraction of the total running cost so wanted to make the most energy efficient choice.
E9 were able to monitor the existing compressor and build up a profile for air demand on site. Marius van der Colff of E9 Limited said "By understanding the current air demand pattern on a site we can calculate the relative performance of differing compressor technologies. Compressed air is expensive to produce but often overlooked as a major energy user. Selecting the right compressor, even a small one, could save thousands of pounds over the lifetime of the equipment."
As part of the compressed air survey E9 also undertook an ultrasound survey of the distribution system to find air leaks. Air leaks typically account for 15 to 25% of air produced and in some cases much more yet fixing them is often as simple as cleaning and tightening a connection.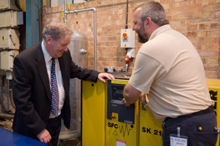 Once the monitoring was complete Cutting and Wear were able to make an informed decision about which compressor to buy.
"We opted for a variable speed drive compressor even though the initial purchase price was higher," said Mark Russell, Managing Director of Cutting and Wear. "The survey showed us that the energy saving would make up the extra cost within a year. Having the most efficient solution also makes an ongoing contribution to reducing our energy usage."
Notes

NAMTEC is a not for profit organisation established to increase the competitiveness of the UK metals industry. Services include a technical helpline, signposting to the science base and project management. NAMTEC is financed by the Department of Trade and Industry, Yorkshire Forward and the European Union's Objective One Programme.
E9 Limited operates from bases in Coventry and Sheffield, offering a range of industrial consultancy products and services. E9 supports industrial and manufacturing companies through development and change by implementing continuous improvements to company operations through a range of management and technical products and services.