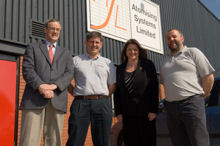 Atomising Systems Limited is a private company based in Sheffield that specialises in the technology of metal powder production by atomisation. Building on the considerable experience of its founders, ASL has been in operation since 1992 and has clients in Australia, Belgium, Brazil, Canada, China, England, France, Germany, Holland, India, Japan, Korea, Norway, Mexico, Poland, Portugal, South Africa, Spain, Sweden, Switzerland and the USA. As well as producing metal powders at its Sheffield facility, ASL provides technology, equipment and consultancy services to companies around the world.
At their Meadowhall site Atomising Systems Ltd produce metal powders in various alloys for a wide range of uses. Because they melt alloys they fall under the Integrated Pollution Prevention and Control (IPPC) legislation for control of emissions. This requires that they have an IPPC Permit from Sheffield City Council to continue operations.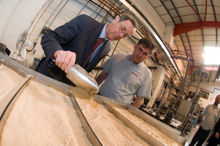 Dr. John Dunkley had already contacted Sheffield Environmental Protection Service and was aware of the amount of work required to produce an application. At this point he brought in E9 Limited to assist in the process of making the PPC application.
Marius van der Colff of E9 spent some time collecting the required information and making the application. He was then able to assist John Dunkley in reviewing the draft permits and negotiating with Sheffield EPS.
Once the permit was received E9 were also able to assist Atomising Systems in drawing up an action plan for work required by the permit and a maintenance schedule to meet the requirements of the permit.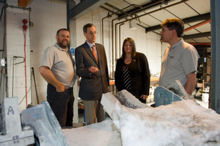 "For a small company something like an IPPC application can appear daunting and if tackled alone will take an inordinate amount of management time" said Marius van der Colff of E9. "We can offer both advice and practical assistance to ease the process and free your time."
Dr. John Dunkley of Atomising Systems Ltd said "Using E9's assistance through the BAT3 programme has allowed us to concentrate our efforts managing the growth of the business rather than being tied up with the IPPC permit application."
Notes

NAMTEC is a not for profit organisation established to increase the competitiveness of the UK metals industry. Services include a technical helpline, signposting to the science base and project management. NAMTEC is financed by the Department of Trade and Industry, Yorkshire Forward and the European Union's Objective One Programme.
E9 Limited operates from bases in Coventry and Sheffield, offering a range of industrial consultancy products and services. E9 supports industrial and manufacturing companies through development and change by implementing continuous improvements to company operations through a range of management and technical products and services.