Stourbridge Turning and Grinding Ltd (STAG) launch their website designed by E9.

Stourbridge Turning & Grinding (STAG) was formed in 1988 and is now one of the West Midlands foremost precision turned parts manufacturers. Offering high quality precision parts, they provide engineered solutions to a wide variety of OEM and 1st tier manufacturers around the world.
Over the last few years they have been investing to increase capacity while maintaining high standards of quality and precision.
STAG have been working with E9 on a number of business improvement initiatives and grant funding applications for capital investments.
While working with the company it became evident that they would benefit from a web presence to maintain their visibility to current and potential customers.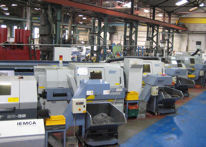 Although the majority of their work still comes through repeat business and recomendations, the company realised that a website had potential to bring in new business.
E9 worked with the company to produce a site which would reflect the quality and professionalism of STAG.
The new site can be seen at www.stagturning.com