Independent Forgings and Alloys Limited is a specialist open die forging and ring manufacturer, producing forgings up to 10 tons in a wide range of metallic materials.
The Sheffield-based company was working towards implementing a strategic energy plan and wanted to make key investments to ensure energy savings met climate change requirements whist making operational improvements on their site and developing cost effective electricity supplies.
Using funding secured by NAMTEC, Independent Forgings and Alloys brought in industrial consultants E9 Ltd at a fraction of the normal charge to carry out an energy assessment.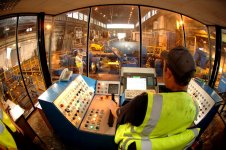 Dr. John Trainor Managing Director of E9 said "Independent Forgings and Alloys are a good and well managed company with aggressive plans for growth. The Management at IFA recognised they had some issues in technical aspects of energy management and with load planning and forecasting as they rolled out their business plan."
"Through our partnership with NAMTEC, we were able to investigate and understand these issues and to illuminate one or two of the blind spots in their vision."
Trackdown and energy saving allowed Independent Forgings and Alloys management to make a decision saving over £120k of capital investment.
The above was achieved by E9 providing the company with advice and information on the structure of the energy industry along with an outline of the different best practices and improvements available with particular reference to investment opportunities.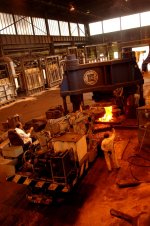 Electrical metering was used to identify process patterns whilst Trackdown environmental software provided by E9 enabled the company to analyse macroscopic patterns making it possible to create models for new patterns and climate change savings. E9 provided Independent Forgings and Alloys with a technical report and an action plan identifying activities that would provide a climate change return.
Gareth Davies, Works Director at IFA, said "E9 provided us the objective expertise and information at the right time to support our plans growth. Their work completed our strategy and providing information for management decision making. We are continuing to use Trackdown as a strategic tool and to draw on the service and expertise of E9 as needs arise."
The help given to Independent Forgings and Alloys was provided as part of the BAT2 Project which encourages companies to adopt "Best Available Techniques" to deal with environmental issues. All companies taking part in the project have saved at least 10% of their energy costs an in some cases considerably more.
For further information about the BAT2 Project please contact Helen King at NAMTEC 01709 722 470.
Notes
NAMTEC is a not for profit organisation established to increase the competitiveness of the UK metals industry. Services include a technical helpline, signposting to the science base and project management. NAMTEC is financed by the Department of Trade and Industry, Yorkshire Forward and the European Union's Objective One Programme.
E9 Limited operates from bases in Coventry and Sheffield, offering a range of industrial consultancy products and services. E9 supports industrial and manufacturing companies through development and change by implementing continuous improvements to company operations through a range of management and technical products and services.