News from Accelerate
A Coventry-based environmental specialist has helped one of the region's longest serving electroplaters address new legislation and attract a string of new orders with customers supplying into BMW and Volkswagen.
E9 Ltd has teamed up with supply-chain initiative Accelerate to provide the necessary expertise and operating procedures for EC Williams to implement Integrated Pollution Prevention Control (IPPC), a complex project that was completed over a six-month period.
This milestone for the automotive business, which was formed some eighty years ago, follows a recent £150,000 investment in a new and completely automated zinc plating line, incorporating the latest technology.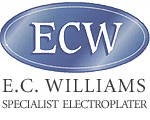 Henrik Skouby, Managing Director of EC Williams, explained:
"We take health, safety and environmental legislation very seriously and plan well in advance of any new regulation to ensure that our customers receive the best quality and security of supply.
"With this in mind, we started addressing IPPC in 2002, but were forced to rethink our strategy last year when the Environment Agency changed the requirements.
"This meant that we needed to complete a detailed technical strategy and have new procedures in place to meet the deadline of 31 st July 2004."
He continued: "Fortunately, we had worked with Accelerate before on a number of initiatives and discovered that E9 were running a series of Network programmes, specifically designed to help companies collaborate to meet the challenge and stringent deadlines. Taking part was an easy decision to make."
The Network, which featured a total of 6 firms from different areas of industry, provided a forum where technical expertise, learning and sharing ideas could be delivered through both group and individual company support.
Participating firms also gained practical insights on how other people were dealing with the issues, whilst a number of on-site best practice visits provided first hand experience of the techniques and measures that could be employed.
"In the automotive sector, there has always been reluctance to network and share better practices, but on this occasion we found that sharing information with other businesses in our industry reduced the cost of implementation," continued Henrik.
"In short, it was an excellent learning model and a rewarding experience to see how suppliers can work together to overcome the challenges faced in today's industrial environment."
Once the company had set out its objectives, it began to focus on implementing an accredited environmental management system using E9's Evolve14k1™ software.
Henrik added: "The system is easy to set up and simple to update and maintain. It is the keystone of our IPPC systems"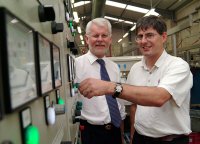 Henrik Skouby (left) of EC Williams and Dr John Trainor of E9 Limited
EC Williams successfully met the requirements of the Environment Agency before the 31 st July deadline and is now in an ideal position to use its new surface engineering capabilities to grow turnover past the £1.5m mark and boost its 32-strong workforce.
"Henrik's team has shown exactly what a forward-looking SME can achieve when they have the right tools and support required to help with critical business decisions," pointed out Dr John Trainor, Managing Director of E9.
"We have taken the Environmental agenda one step forward by introducing the company to our monitoring services known as Trackdown®, which have already provided a range of operational efficiency improvements and energy savings."
Managed by Birmingham Chamber of Commerce, Accelerate has provided funding for over 100 networks to date, ranging from TS16949 accreditation, right through to collaborative tool making.
The initiative plans to use additional financial support to help West Midlands companies look at technology transfers and global production opportunities.
Notes to Editors
Established in 1996 to promote automotive businesses in the West Midlands, Accelerate has grown into one of the most successful supply chain initiatives in the UK.
Driven by the changing face of the industry, the programme has assisted over 1000 companies in implementing best practice manufacturing systems, securing production efficiencies and cultivating workforce development.
Going forward, Accelerate has recently secured a £90m support package, which will be channelled into supporting the evolving needs of the West Midlands supply chain, as it maximises the global opportunities of the 21 st century.
Accelerate offers financial assistance towards:
Business Development
Capital Equipment
Collaborative Supplier Networks
Management and Workforce Development
Specialist Centres
Supply Chain Improvement Programmes
The programme, which is funded by Advantage West Midlands and ERDF, is managed by Birmingham Chamber of Commerce and is a regional partnership of Business Links, SMMT Industry Forum, Universities and a number of vehicle manufacturers.
The European Regional Development Fund provides assistance for investment which creates or maintains jobs, for infrastructure projects, for education and training in development of local businesses, and for research and development.

This press release was originally sent out by Accelerate.