E9 is providing its Christmas charitable donations in 2004 to two children's charities.

The Save the Children fund got the vote from the employees for the third year running. Save the Children works to help children both in the UK and around the world, who suffer from poverty, disease, injustice and violence.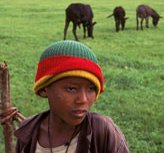 This year Save the Children are marking the 20th anniversary of Band Aid by highlighting the continuing suffering of millions of Ethiopians who are still living in poverty.
Save the Children are concentrating their efforts on development work, helping to build a better future for the children of Ethiopia. As an example of the work that they are doing, E9's donation could provide a small herd of goats to supply milk to help feed families. The surplus milk could then be sold to provide an income for the families.
In addition, this year E9 Limited is lending its support to the BBC West Midlands Christmas Toy Appeal in their 20th year of helping disadvantaged youngsters in Coventry and Warwickshire.
Premier Sheet Metal directors, Paul Sullivan and Dennis Meagher, called for companies to support local charity work and contacted E9 directly.

Responding to the call to 'Give a little more this Christmas', E9 donated its presents to Bob Brolly of BBC WM Coventry & Warwickshire Local Radio at the event on 24 November 2004, hosted by Premier Sheet Metal at their headquarters in Bayton Road, Coventry. The BBC WM Christmas Toy Appeal aims to provide children with new toys and gifts, who otherwise would go without.
Toys will be distributed throughout Coventry, Warwickshire and The West Midlands with the help of the social services.
By giving whatever we can, we can make a huge difference to many children, especially during the festive period.
For more information on the work of Save The Children, to find out more about the BBC WM Christmas Toy Appeal, or to make a donation please follow the links below;
http://www.bbc.co.uk/coventry/content/articles/2004/11/10/christmas_toy_appeal_feature.shtml