E9 Limited (based in Coventry and Sheffield) have launched an active monitoring and management package for use by companies seeking to improve energy management, make savings and meet their Climate Change Agreement obligations.
Trackdown® has been devised for use by energy users with a range of features and applications suited to management team responsibilities across the board.
Dr. John R. Trainor Managing Director of E9 Limited said "We have designed Trackdown around the modern executive manager's hectic schedule and multiple-hat-wearing role. Most executives and owner managers simply haven't got the resource to invest into discovering opportunities. We take a simple view, serve up opportunities in a "decision ready format" and prevent an issue becoming a crisis."
Trackdown has modules likely to be of interest to the Financial Director, that aid budgeting and financial reporting, the management of bills and accurate allocation of costs.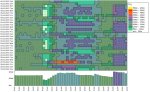 Those with Operations or Production responsibilities are likely to find this product valuable in understanding the energy and power demands and how these influence the consumption of utilities. The range of planning applications includes impact of new investments, alternative working patterns, production efficiency at shift change times, and overall production efficiency. Trackdown can also produce specific energy consumption and can be used to benchmark performance.
Management with responsibility for Energy and Environmental issues will find other modules and features useful. Trackdown aids in the identification and elimination of wastes and produces a method by which the carbon emissions footprint can be reliably measured.
"Trackdown is an ideal tool for companies of all sizes to keep on top of their utility costs," explained Marius van der Colff (Sheffield Office Manager of E9) "and the key is providing the right information at the right time to the right person. Our early adopters have found that Trackdown is a powerful tool for cost and consumption reduction, particularly when combined with an energy survey"
Trackdown is a tool for the active monitoring and management of utilities. For information on Trackdown or to take an online demonstration, logon to www.trackdown.biz or for more information call Marius van der Colff on 08456 444661.





Notes
E9 Limited is an industrial consultancy, which helps manufacturing companies to develop and implement improvements to their business through a range of management techniques and technical products and services. For more details see www.e-9.biz.
Trackdown® is a registered trademark of E9 limited and can be found at www.trackdown.biz.
For more information contact: Marius van der Colff, E9 Limited 08456 444 661